Anthony
Anthony Carter is the managing director of Carman Online Content Publishing Ltd. He set up the company in June 2011, four years after going self-employed in the freelance writing sphere. From humble beginnings, Anthony has managed to build up a substantial client-base and is focussed on expanding this even further in the coming months and years.
Homepage: http://www.thecheapplace.com
Posts by Anthony
&nbsp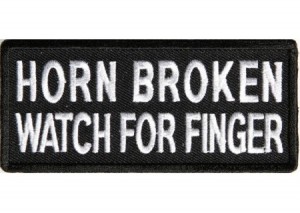 When someone cuts you off on your way to work, the proper thing is to honk your horn at them.  Let them know they're driving like a maniac.  Or honk to let them know the light is green and they need to put the cell phone away and drive.  But most assholes don't deserve a honk, they need a one-fingered salute.  Flip them off and watch them get angry!  Then point to your Horn Broken Watch For Finger Patch to let them know it's your only option.  It might not make them any less pissed, but at least you'll have a good laugh.  This is one of the Funny Patches on The Cheap Place.
When a person is having a bad day, or when they have major road rage, they're likely to flip the bird all the time.  Of course, this makes other people get pissed and leads to more road rage.  Then there's the fact that most of the time, your horn is working just perfectly!  But after laying on the horn over and over, it may not be getting the job done.  In that case, it's time to raise your hand and extend the middle finger!
This embroidered patch measures four inches long by an inch and three-quarters tall.  The embroidered phrase "horn broken watch for finger" is done in white thread on a black background.  The patch also has black die cut borders all the way around it.  These borders make it easy to sew the patch on leather or nylon clothing.  You can sew it on to other materials, too, or you can iron it on using the heat-activated plastic on the back of the patch.
&nbsp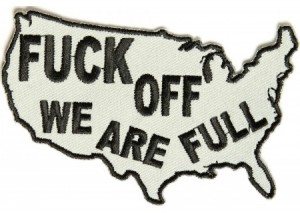 It seems like immigration is a big deal these days.  Lawmakers spend a lot of time going around and around with how we should handle all these people wanting to come into the country.  How about we just tell people to fuck off because the United States is full!  If you want to tell immigrants this, you can wear the Fuck Off We Are Full Patch.  Sure, it's offensive, and you'll probably piss off a lot of people (immigrants and liberals, mostly), but it makes it clear where you stand.  This patch is in the Offensive Patches category.
This iron on biker patch is shaped like the United States.  It's fairly detailed, even showing a vague idea of the great lakes.  The words "Fuck off we are full" are spaced out around the patch in black, while the background is white.  The country is outlined in a thick black border, so you can easily sew it on to your jacket or vest with black thread.
Embroidered patches like this are a great way of announcing your views on politics without shouting about them all the time.  Just wear the patch on your jacket and let other people do the work.  Once they see it, they're likely to start up a conversation about immigration.  It might be an agreeable conversation, or it might be a long argument.  Either way, the patch has done its job!
This patch is four inches across at its widest point and two and a half inches tall at its tallest.  To put this patch on leather or nylon, you will need to sew it on.  To add it to other materials, you can iron it on using a standard household iron.
&nbsp
Many women out there want a really cool looking large back patch for their biker jacket.  There are a number of different options out there, of course, but some of them are not very feminine.  If you're looking for a lovely cheap biker patch that also isn't very manly, then you might like this Flaming Pink Eagle Lady Patch.  It's a large back patch that combines a lady biker patch with a gorgeous eagle.  It will look amazing on the back of your jacket or vest.
This fiery eagle looks like it's aflame with pink fire.  In that way, it could almost be taken as a phoenix instead of an eagle.  The bird has roses growing around its talons and up beside its wings.
Many people add eagle patches to their jackets and vests as a way of showing off their pride in their country.  However, this patch doesn't really work for that because it doesn't look like a bald eagle.  The design is much more tribal, so if you want something to fit with a patriotic theme, you probably want to look at a different patch.
This is a good sized patch, so it's going to fill up most of the space on the back of your jacket or vest.  It's a full nine inches across, but it's only six and a half inches tall, so you may be able to put a small patch above or below it.  The grey, pink, and green in this patch really stand out on a dark colored item.  Because it has black die cut patches, you can sew the patch on using only black thread.  It will look really professional and wow all your biker friends.
&nbsp
You just bought a bunch of new patches at a recent motorcycle rally—it's hard to resist them, isn't it?— and now they are sitting in a pile in your suitcase or collecting dust in the closet. Once you buy them, it's hard to get motivated to actually put them on your jacket and to decide how to arrange them. Here's a few thoughts to where different patches should go.
Big patches, of course, fit best on the back of the jacket. Whether it's an eagle patch with wings spread far apart or a skull with huge flames, the back of the jacket is the best place for it. Plus, when you leave someone in the dust, they'll be left looking at your awesome eagle.
Smaller patches can find a home on your arms. Because of their diminutive size, several can be lined up on your arms—and you can fit more on your jacket! Plus, they'll be right out there for everyone to see.
Now for that really special patch, you know, that one that just makes your heart go pitter-patter or memorializes a special rally or even a great friend. That's the one you should place in the pocket position—right over your heart. Yes, it's cheesy. But where else would you put your favorite patch?
Patches signify who are you are to the world around you, so it's time to break out the iron or needle and put those patches on your jacket. You're jacket will be more you, and after all the money and time you spent picking out those patches, don't they deserve to see the sun? Sure they do.
&nbsp
Every motorcyclist is always on the lookout for that next great biker destination. Gather up your local biker buds because Eureka Springs, Arkansas is sure to fit the bill, with its lovely views, amazing roads, and awesome local community.
Eureka Springs, Arkansas is the heart of northwest Arkansas. Located about an hour northeast of Fayetteville, Arkansas (home of the University of Arkansas), Eureka Springs is certainly not what you would expect. The tiny town in the hills is a microcosm of a much larger city, reminiscent of San Francisco or Portland in its culture and friendliness. The community is very welcoming to people from all walks of life. With its shopping and bars, you are sure to find a place that is perfect for you. You may even be able to find that long-sought after skull patch for your jacket. Don't forget to check out the rock shops strewn throughout the area—you're sure to find something splendid for your garden.
But it's not all about the small-town fun. This area of Arkansas has spectacular natural beauty. On the drive up, you will wander through hills and vistas, all covered in forests. During the fall, this area lights up with splendid colors—in fact, it is famous for it. And for those daily jaunts, beautiful Beaver Lake is just a short ride away, which features a number of roads perfect for bikers, as well as camping and picnicking.
So the next time you are looking for that perfect biker destination, look no further than Eureka Springs, Arkansas. You would be hard-pressed to find a prettier area, and the local culture is unsurpassed in such a small town.
&nbsp
Vacations may be on the top of every biker's fantasy list, but great biker destinations are not always that easy to find. Santa Fe, New Mexico is a fantastic spot to get away from it all with great places to ride, a vibrant, artistic community, and weather that is the dream of every biker.
Santa Fe is a small city in north central New Mexico. Because it is located at the base of the Rocky Mountains, the surrounding area features some fascinating landscape. From canyons to vistas, the area around Santa Fe is gorgeous: lots of rolling hills perfect for afternoon rides. The desert landscape also produces a wide array of plant and animal life, sure to keep you entertained on your rides.
Because of its slightly raised altitude, Santa Fe features lovely weather. The summer isn't blazing—it generally stays in the 80s, though it does get some rain. The winter isn't as cold as many other places, so motorcycle riding is a possibility throughout the year.
The best part is Santa Fe is a great little community with a vibrant artist scene, great local bars, and awesome food. Artists come from all over to this small town, and it is famous across the Southwest for authentic Mexican food. Because it is so artistic, the Santa Fe community is very welcoming to all types of people, and the shopping is unsurpassed, especially for local art goods. You can even find some amazing hand embroidered patches for your leather jacket.
Overall, Santa Fe, New Mexico has a lot to offer anyone, but bikers, especially, will enjoy the area. The next time your biker club is looking for an awesome destination, Santa Fe should be at the top of the list.