Face Masks
&nbsp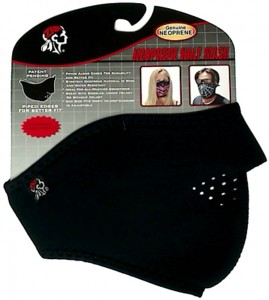 Are you tired of having half your face frozen when you're riding in the cold?  Sure, your helmet will protect your head somewhat, but not everyone wears full face helmets with visors.  Some people don't wear helmets at all, so they have no head protection from the cold or the rain.  That's why most wear face masks.  These masks keep them warm and keep their faces from getting rain whipped.  This black half face mask is a bit different, though.  It only protects the lower face—your mouth and nose.  It's good for those who wear helmets but need something to keep their lower face protected.
This face mask is made from neoprene, which is soft and comfortable to wear.  It's also water proof and wind resistant, so it will help protect your face from the two main nuisances of riding a bike.  It can be worn with or without a helmet, and it also works great with goggles.  The mask is plain black with some piped stitching around the edges to help it fit better and hold up against the elements.  It fastens with stretchy Velcro fasteners, so it can be adjusted to fit all sizes.
If you're doing a lot of things outdoors, you can wear this face mask to keep warm.  It works for outdoor activities like skiing or for doing things like shoveling snow.  You can even wear it on Halloween as part of a costume.