Riding Glasses
&nbsp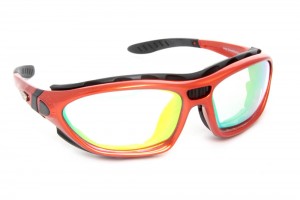 Do you need a great pair of riding glasses to protect your eyes while riding?  How about a pair of glasses that improve your night vision?  Some people end up with multiple pairs of riding glasses, one for during the day and one for night.  However, these orange riding glasses with removable foam are designed to be the only pair of riding glasses you need.  They feature a removable piece of foam that gives the glasses a comfortable, snug fit.
These riding glasses were designed by EyeQUSA, a company that focuses purely on motorcycle riding glasses.  They're covered with a layer of XNR film, which enhances the light and makes it much easier to ride during the night.  They're also shatterproof, so even if you end up crashing, they won't break.  This is a true safety concern because if your glasses were to break in an accident, the glass could cut your eyes.
You don't have to use the foam piece if you don't want to.  Some people find the foam presses in and bothers them.  Others find that the foam helps keep the glasses in place when worn under a helmet.  Either way, these night riding glasses are great for riding during the day or night.