Fly this Flag for your Guns
&nbsp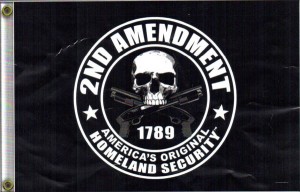 If you have a flagpole on the back of your bike or in front of your house, you might be looking for a number of different flags to fly from it.  The flags section on The Cheap Place has many different flags that are perfect for bikers.  They have everything from U.S. flags to biker flags to POW flags.  They also have a 2nd Amendment Flag for those who strongly support the right to bear arms.
This three by five foot flag is black with a large white skull in the center.  Two guns are crossed underneath it.  The date 1789 is between the guns.  This was the year that James Madison first drafted what would become the Bill of Rights, which includes the Second Amendment guaranteeing citizens the right to own weapons.  The Bill of Rights was presented to the first Congress in June of 1789, although it wouldn't become a part of the U.S. Constitution until 1791.
Recently, the Second Amendment has come under scrutiny, and the U.S. Supreme Court issued two decisions regarding the amendment.  The first, issued in 2008, states that an individual has a right to possess a firearm, regardless of any militia service, and use it in lawful purposes.  The second, issued in 2010, ruled that the amendment applies to state and local governments as well as the federal government.
Do you love your guns and feel like you have the absolute right to own them?  If so, fly one of these flags!  Show that you feel like guns are, as the flag says, "America's Original Homeland Security."