If You Get Pulled Over a Lot, You Understand This Patch
&nbsp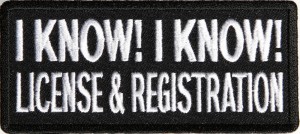 One of the first things you're asked for when you're pulled over by a police officer is to show your license and registration.  Officers also usually want to see your proof of insurance, too, and if you don't have any of these items on you, you're going to be in major trouble!  If you know the drill after being pulled over multiple times, then you need this Biker Saying that makes a little joke out of it.  The I Know I Know License And Registration Patch is both funny and might even amuse the officer who has pulled you over.
Bikers don't always get pulled over, but some do for various reasons.  If you're speeding or driving recklessly, then you might actually deserve that ticket.  But sometimes it seems like bikers get pulled over unfairly sometimes.  If you seem to get warnings or even tickets more often than you think you should, don't get angry with the officers who pull you over.  That only makes it worse.  Instead, make a joke out of it by adding this patch to your jacket.  It might help diffuse the situation and it could even help get you out of a ticket.
This fun patch measures 4 inches by 1.75 inches and can be ironed on to just about any type of material.  The only thing you can't iron it on to is leather because the heat will damage it.  Instead, the patch features die cut borders that make sewing it on very easy.  If you want to get several of these patches to give to your biker buddies, look into the wholesale patches option.  You can buy multiple patches at a low cost.