Keep Your Head Warm with a Beanie Hat!
&nbsp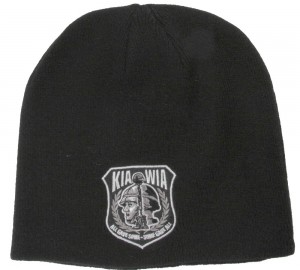 Are you tired of having a cold head when you're out riding?  Does your helmet need a little extra padding?  How about when you're off your bike and have your helmet off but are still outside?  If you want to warm up your noggin, you need a Beanie Hat from The Cheap Place.  They have a number of different hats to keep you warm.  If you have a friend or relative who is in the military and was either killed in action or wounded in action, you can honor them and stay warm by wearing the KIA WIA Beanie Hat.
This beanie features the KIA WIA emblem on it.  That emblem is made up of a soldier and the three items that indicate a fallen soldier: a pair of boots, a rifle, and a helmet.  Below this it reads "all gave some – some gave all."  Those who were wounded or killed in action don't have to have been in combat.  According to the U.S. Department of Defense, a solider can be declared KIA or WIA if they are attacked by a hostile force—they don't have to have fired a shot.  The term usually doesn't apply to those who were killed in vehicle crashes or non-hostile events.
This hat features the emblem embroidered on the front.  It's made from warm, soft acrylic material.  The hat stretches to fit all sizes and can be used for riding, skiing, working outdoors, or for any occasion when you need to bundle up.