This is a Great Flag For Bikers
&nbsp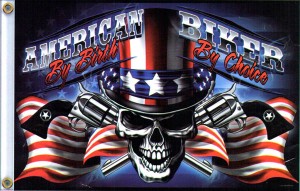 Are you looking for a way to show off how proud you are to be a biker?  There are several different things you could do, like putting patches on your jacket and showing off your bike.  One more overt way of letting people know how much you love riding is to fly this American By Birth Biker By Choice Flag.  It's one of the more interesting flags on The Cheap Place, although it might scare some people because it features a creepy skull and a couple of guns!
This 3 foot by 5 foot flag features a large skull wearing an American flag-themed hat.  There are two guns behind it, one on either side, with the stripes part of the U.S. flag background.  In the upper part of the flag, around the large hat, it reads "American by Birth" on the left and "Biker by Choice" on the right.  The skull might not appeal to everyone, but some bikers do enjoy the skull theme.  If you're one of them, fly this flag on your bike when you're out riding.  It's sure to make a statement!
What statement?  That you're a biker by choice.  You love this lifestyle, and it's the only one you'll ever want.  You might be American by birth, but you became a biker by your own choice.  This flag is made from 100% durable polyester material with artwork by Good Sports, Inc.