This Leather Vest Has Tons of Pockets
&nbsp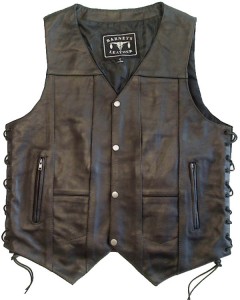 Does it seem like you never have enough pockets?  Bikers stash a lot of stuff in their jackets and vests.  Motorcycles don't have as much space as a car, naturally, so they have to have somewhere to put all those little things that most people would toss in the back seat.  This 10 Pocket Leather Biker Vest offers ten deep pockets to store a ton of stuff.  It's also very stylish and durable.  It will go great with just about any outfit, plus it will keep you warm when you're riding on a cold night.
This bikers vest has four outside pockets, two on either side.  One is a sleeve pocket, and one can be zipped close to hold small things that might otherwise fall out.  On the inside, you have six pockets, three on either side.  Each side has a snap button pocket, a zipper pocket, and a sleeve pocket.  You can really weigh this vest down with a lot of stuff.  The inside snap pockets are even large enough to fit a handgun in.
The vest is made out of high quality premium leather and features high quality snaps and zippers.  It also features side laces so you can adjust it if it's a bit big or small.  This black vest comes in six different sizes.