This Patch Lets You Know She's Not Mrs. Right, But That Doesn't Matter
&nbsp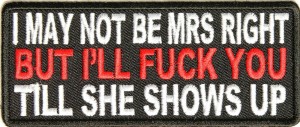 Guys sleep with women all the time.  Most of the time, the guy isn't even thinking about a long-term relationship, much less marrying her.  One popular saying is that she might not be Mrs. Right, but she can be Mrs. Right Now!  The May Not Be Mrs Right Patch plays off of this and twists it around for lady bikers.  It reads, "I may not be Mrs. Right, but I'll fuck you till she shows up."  This patch is located in the Offensive Patches section and the Ladies Patches section of The Cheap Place.
There's an unfair stereotype that has to do with women having casual sex.  When men have one night stands, it seems like they get high-fives and "way to go, man" from all their friends.  But when a woman does it, she's considered a slut.  However, women can enjoy casual sex just as much as men can, and there's no reason why they shouldn't be able to do that without being called names.  This patch makes it clear that some women aren't looking for marriage or even a long-term relationship: they just want to fuck.  If you see a woman wearing this patch, don't just assume she will want to get in bed with you, but know that she's open to the idea!
The Not Mrs. Right patch measures 4 inches by 1.75 inches.  Most of the text is in white, but the middle line of "But I'll fuck you" is done in red so that it really stands out.  This patch can be sewn on leather or ironed on to many other types of clothing.  As with most patches on The Cheap Place, it can be purchased as a wholesale biker patch as well as purchased individually.