This Patch Tells Others to STFU!
&nbsp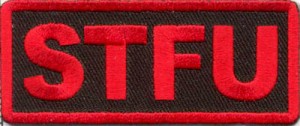 Sometimes, you can tell someone to be quiet or stop talking in a calm, nice manner.  Sometimes, you don't even have to say anything—a look, a shrug, or answering in monosyllabic words can get a person to shut up and stop annoying you.  But some people won't take the hint.  They won't even take a "I don't care, please be quiet."  That's when you bust out with a rude "STFU!"  Or, if you want to be a bit more vulgar, tell them what it means: "Shut the fuck up!"  This STFU Patch, which is one of the Vulgar Patches on The Cheap Place, can do the talking for you.  Maybe, just maybe, someone will see it and will shut up before you have to tell them to.
Some people may think the phrase came from texting, but it's been around for much longer than text messages.  People used the phrase on internet message boards and in chat rooms for years.  The exact origin of the acronym is unknown, but it was most likely used early on as a way of getting around message board vulgarity filters.  It may have started as "Shut the F up" and then got shortened.  It may even have been used offline first.  Either way, it's very useful when you want someone to shut up and being nice doesn't work.
The STFU Patch measures 3 by 1.25 inches.  It's done in bright red on a black background so it really stands out.  No one will miss the message you're trying to send with this patch, that's for sure!