This Vest is Soft and Light
&nbsp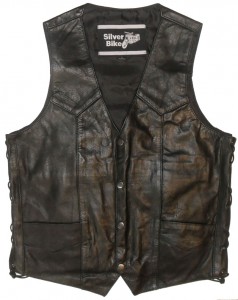 Are you looking for a great leather biker vest?  There are a number of them on The Cheap Place.  This Soft and Light Leather Biker Vest will feel like you're wearing next to nothing.  It's very soft, too.  Don't let that fool you, however—this vest is durable and strong.  It will stand up to a number of rides and won't show wear or damage from the weather.  It's made out of quality goat leather that's perfect for wearing in hot areas where other materials will make you sweet.
The vest has two outside pockets and two inside pockets, so you have plenty of places to stash your stuff.  The side laces allow you to tighten it up just a bit or let it out a little to get that perfect fit.  The front snaps shut with black buttons.  The inside of the vest has a nice, soft liner that nicely compliments the goat leather.
This vest looks great, feels so soft, and is very affordable.  It's the perfect vest for warm weather riding.  It comes in sizes ranging from small to 3XL, and the laces let you adjust it slightly so that you get that great fit.