Mechanic Patch
4x1.5 inch
Embroidered Patch
Iron on or Sew on Application
Plastic Backing & Die Cut Borders
'Weekly Special' Expires On: Jul 5 2015



241

Available
Need More?
Save

You are saving 25% by paying $3.00 instead of $3.99

Your order will ship Today!
Description

Similar Products

Related Categories

More Info

Recommendations
Mechanic Patch is an embroidered iron on patch measuring 4x1.5 inch. Apply it to your clothing by sewing it on or ironing it on. The patch features die cut borders for easy sewing and iron on backing for easy iron on application. Please do not iron on patches to leather or nylon material. Please remember using a household iron will not produce professional results. Both heat and pressure is required to adhere an iron on patch properly to a garment.
(P1411) 3.5x1 inch
$3.99
$3.00
(P2860) 3x1 inch
$3.99
$3.00
(P3718) 3.5x1 inch
$3.99
$3.00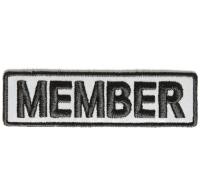 Reflective Patches
(PIN135) 1.25x0.25 inch
$3.99
(PIN134) 1.25x1.75 inch
$3.99
Basic Info
Color
Black / White
Dimension
4x1.5 inch
Material
Embroidered Patch
Rating
Everyone
Product info
Application
Iron on or Sew on Application
Backing
Plastic
Borders
Plastic Backing & Die Cut Borders
Patch Size
Small
Patch Shape
Rectangular
SKU
P3554
ASIN
B00BZHBTPC
Weight
0.12 Ounces
Brand
Ivamis Trading Patches