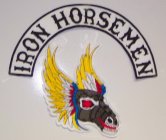 If you're a patch collector who's never seen an Iron Horsemen patch you're not alone. That's because this motorcycle club is a bit more obscure than some of the other big names you've heard of. Nonetheless, their patch is pretty cool and definitely worth seeing close-up.
This club's colors consist of four patches. The first is the iron horse's head complete with red eyes and colorful wings sprouting off the back. The second and third patches are rockers; "Iron Horsemen" across the top and "National' on the bottom. The last patch is a small MC to the right of the horse head. All grouped together these four patches create a definite image of who they are and Horsemen are.
While this club isn't as famous as the Hells Angels or the Outlaws, it is fairly sizable throughout the Northeast and Midwest. There are chapters in 11 states including New York, Pennsylvania, and Kansas. The group was formed in Cincinnati Ohio in the mid-1960s.
Although you're not allowed to purchase Iron Horsemen club patches from a dealer (you have to earn them as a member) you can get custom bike club patches made through The Cheap Place. All you need to do is submit your design and order of 20 or more pieces; The Chiep Place will have them produced and shipped right to your door.
Even if you're not a bike they provide more than just custom patches for motorcycle clubs. You can get custom patches for any type of group. Youth clubs, church groups, civic organizations, service groups - they can all promote their identity with custom club patches.
If you're looking for customized patches for your club at a good price, you should consider contacting The Cheap Place today. You won't be disappointed.