Gypsy Joker MC Patch Whimsical, If Not Odd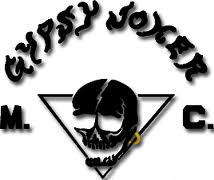 When it comes to official motorcycle club patches we tend to expect things like skulls, flames, and a variety of hand-held weapons. So when most people see the official patch of the Gypsy Jokers they are taken a little bit off guard. Their patch features a colorful caricature of a Renaissance-era court jester with one hand in his pocket and a look of mischief on his face. Alternately, the club does have a more traditional looking patch featuring a skull inside a triangle.
The Gypsy Jokers were founded on April's Fools day, 1956, in San Francisco. Right from the start they were at odds with the Hell's Angels and eventually moved the club north. In 1967 the club established a new headquarters in Lincoln City, Oregon and spread out from there. Today they are one of the most well-recognized motorcycle clubs in both the U.S. and Australia, with 35 chapters around the world and a penchant for protesting anti-biker legislation.
If you're wondering where motorcycle clubs like the Gypsy Jokers get their custom club patches, they usually order them from companies like The Cheap Place. Normally a club will submit its design to a patch maker who will then produce the patches for them.
One of the great things about custom club patches is the fact that a club doesn't need to be bikers to get them. Any organization can design and order their own custom club patches for distribution among their members. Patches are great for civic organizations, kids clubs, sports teams, and even businesses looking for a great way to market themselves. If this sounds like an intriguing idea to you, contact The Cheap Place and submit your design today. They'll have your patches made and shipped right to your door.
Login to comment