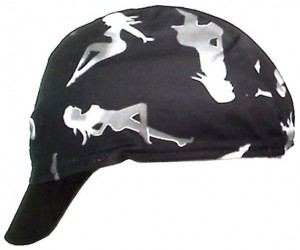 Bikers love welder caps because they fit tightly and can be worn underneath helmets. They help protect your head from the sun, the weather, and can keep you warm, too. What's great about the welder caps on The Cheap Place is that they're reversible. One side is patriotic, while the other side is one of the many designs we offer. You can go with a plain black one, one with a little bit of color, or, if you love sexy women, you could buy our Mudflap Girl Welder Cap. This cap features the outline of a sexy lady in a pose similar to the one you see on mudflaps plus others.
When you reverse this cap, you'll find one of two different patriotic U.S. flag prints. The small and medium caps feature the U.S. flag, while the large and extra-large caps include the flag and golden eagles. The cap has a real leather suede bill that won't scratch the back of your neck while it's protecting it from the hot sun. It's also flexible and will fit under your helmet without too much trouble. The caps also feature elastic fitting in the front so they fit snuggly on your head and won't fly off while riding.
All of the welder caps on The Cheap Place are made in the U.S. from high quality cotton. They're sturdy, durable, and both designs look great.