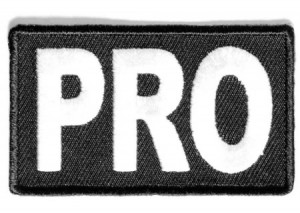 Are you a professional? Of what, you might ask. Of anything! Maybe you're a professional job-wise, but maybe you consider yourself a professional biker, professional drinker, or professional lover? Whatever it is, you should let others know you're incredibly skilled in whatever it is you do. If you're a pro at anything, you need a Pro Patch. By wearing it, you can be sure people know you're a pro. It's a fun way of showing you're the top of the field. It's one of the awesome small, cool patches on The Cheap Place.
Who declares someone a pro? Well, it depends. If you're a professional athlete, it has to do with what kinds of competitions you enter into and how often you win. If you're a professional in your industry, it might have to do with your education and what kind of certificates you have. A professional drinker might be someone who is often the last man standing when the bar closes. On the other hand, you can call yourself a pro at a lot of things without anyone else backing you up. Who's to say you're not a professional napper or a pro at farting the alphabet? Only you!
Let the world know you're a pro at something by wearing this cheap motorcycle patch. It's so small at only 2.5 inches wide by 1.5 inches tall that you can put it on pretty much anything. It's even small enough to fit on your wallet or on the back of your biker gloves. The patch has an iron-on plastic backing on it so you can easily iron it on to your clothing, but it can also be sewn on. Sewing it on actually gives it a more professional look.