Large Credit Card Leather Wallet -
8x4.5 inch
Discontinued Item,
ALL SALES ARE FINAL Our Price: $19.99
8x4.5 inch

Wallet

Genuine Leather (USA Made)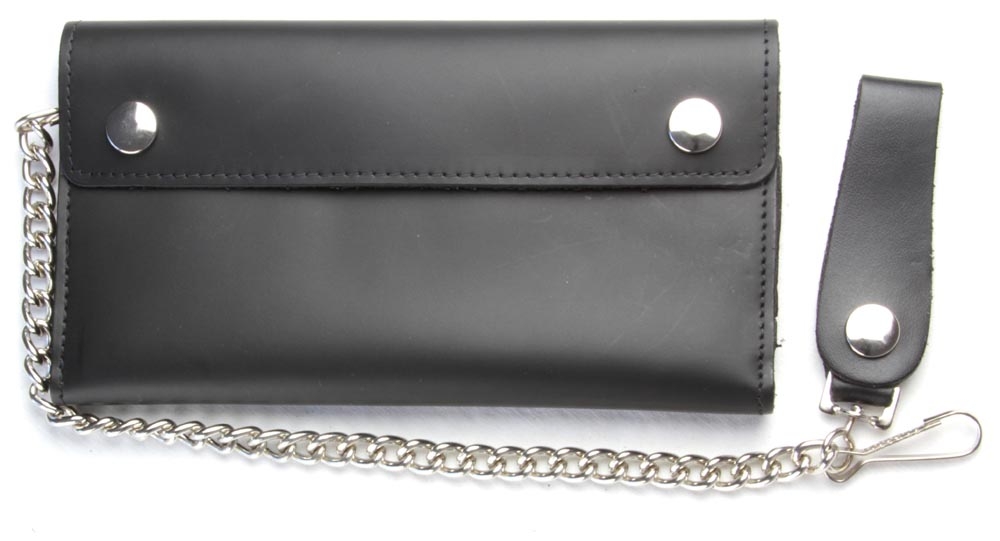 Product Information
Material
Genuine Leather (USA Made)
Product Description - Large Credit Card Leather Wallet
Men's black leather wallet with braided leather running along the front edges as decor.
The Wallet is Made in the USA. Made in USA is actually engraved on the leather. This is high quality leather wallet at a reasonable price
Shiny and sturdy front snap button enclosure
Measures just under 8 inches by just under 4.5 inches.
The attached wallet chain measures is 12 inches long. Attach the end of it to your belt with the leather piece or clip it on your pants belt loops.
This is a leather wallet designed for Bikers who ride motorcycles. Carry it on your pants back pocket and attach the chain to your pants. If your wallet falls out of your pocket while riding, at least it will still be hanging off your pants.
We call this the credit card wallet. It has 10 different slots to put your credit cards, driver license ans business cards.
Zipper pocket for change, it is large enough to fit a Samsung Galaxy S2 phone
Two cash folders on top and bottom half of the wallet.