Set of 9 American Flag Patches in Different Color Combinations -
3 inches
Reg Price : $35.91 Bundle price: $32.32
3 inches

100% Rayon Thread Synthetic Embroidery. Plastic Backing with Japanese Iron on Glue.

Sew on the Patch to Leather Jackets or Vests. Iron on the Patch to Denim Materials.

Features Plastic Iron on Backing. Heat Press at 270 Degrees Fahrenheit for 12-30 Seconds

Clean Cut Embroidered Borders for Easy Sewing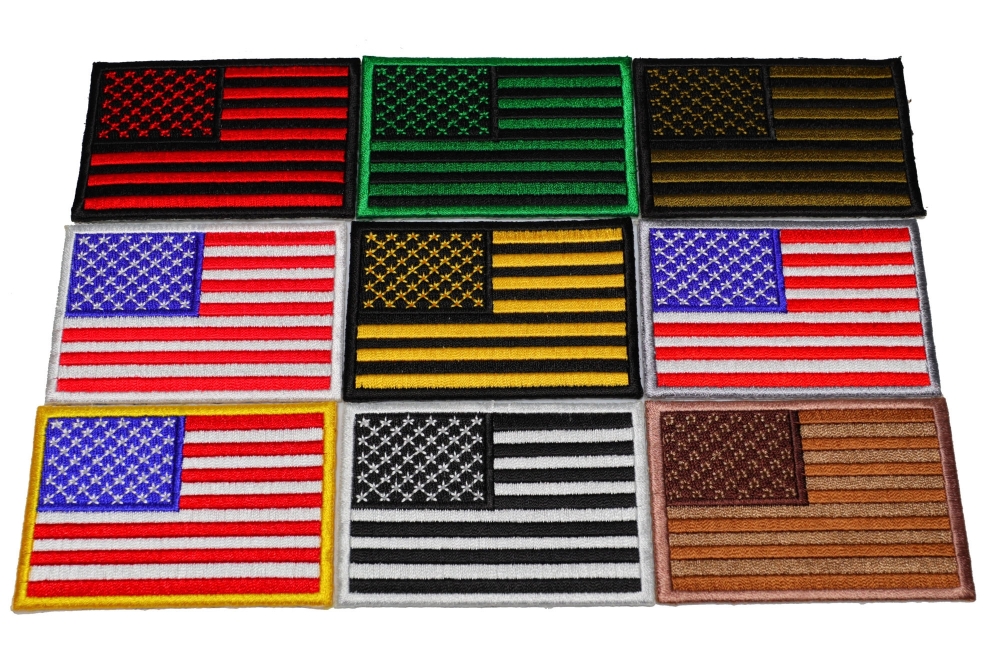 Product Information
Color
Black / Green / RWB Yellow Border / Yellow / Red / RWB Silver Border / RWB White Border / White / Brown
Material
100% Rayon Thread Synthetic Embroidery. Plastic Backing with Japanese Iron on Glue.
Iron on Instructions
To properly iron on the patch temperature is important and must be between 260-280 Degrees Fahrenheit. 30 Seconds of applied pressure at the correct temperature is needed using a household iron. 12 Seconds is enough if using a heat press.
Tips for Ironing on Patch
Plug in iron. Crank it to highest setting. Place iron on top of your garment with a frying pan thermometer sandwiched between iron and garment to start the preheating process. Once temperature reaches 280 Degrees Fahrenheit unplug your iron. Temperature will continue to rise and then start to decline. Once it declines to 280 Degrees Fahrenheit, Slide the iron, place your patch and put the iron on top of your patch and press as hard as you can for 30 seconds without moving the iron around. Do not mess with the patch until it has completely cooled down. Do not iron on patches to Leather or Nylon!
Application
Sew on the Patch to Leather Jackets or Vests. Iron on the Patch to Denim Materials.
Backing
Features Plastic Iron on Backing. Heat Press at 270 Degrees Fahrenheit for 12-30 Seconds
Borders
Clean Cut Embroidered Borders for Easy Sewing
Product Description - Set of 9 American Flag Patches in Different Color Combinations
This set of American Flag patch combination includes nine different colored 3x2 inch US Flag Patches. There are 3 Red White and Blue versions with different border colors; White Gray and Yellow. Then we have the black and red, kelly green and black, army green and black, the yellow and black, the white and black and the brown on brown colors. Sew or iron them on to your clothing. The patches all feature embroidered and laser cut borders for easy sewing and ironing on. Turn them into hook patches with our peel and stick hooks that we sell separately.