Anthony
Anthony Carter is the managing director of Carman Online Content Publishing Ltd. He set up the company in June 2011, four years after going self-employed in the freelance writing sphere. From humble beginnings, Anthony has managed to build up a substantial client-base and is focussed on expanding this even further in the coming months and years.
Homepage: http://www.thecheapplace.com
Posts by Anthony
&nbsp
Everyone's a little messed up in some way.  Maybe you didn't get enough hugs as a kid, or maybe you have issues with your siblings or with your job.  There are dozens of things you might need to be in therapy for, but it's so expensive.  A licensed therapist can charge a ridiculous amount of money for just an hour, and you're supposed to see them every week?  Who could afford that?  Drinking is much cheaper and can be just as effective!  The Therapy Is Expensive Beer Is Cheap Patch is correct in that!  It's a fun Beer Patch you can buy directly from The Cheap Place.
Think about how much in common these two things have.  You pay a therapist a lot of money to sit on a coach for an hour and talk about how much your life sucks.  On the other hand, you can pay a bartender for a round of booze for you and your friends and tell them how much your life sucks.  It's cheaper and a lot more fun!  Will drinking make your life better?  Maybe not, but there's no guarantee therapy will fix it all, either.  So if you're going to spend money, why not spend it on a fun night out with your biker friends?
This amusing embroidered patch uses white embroidery thread to spell out its messages in a very clear and easy to read font.  The patch has die cut black borders around it that allow you to sew it on to your clothing very easily.  If you're going to put it on material that can be heated (not leather or nylon), then you can iron the patch on.  This melts the plastic backing and permanently attaches the patch to your clothing.
&nbsp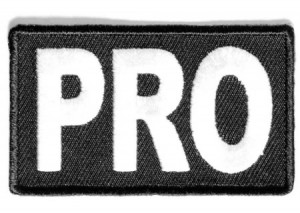 Are you a professional?  Of what, you might ask.  Of anything!  Maybe you're a professional job-wise, but maybe you consider yourself a professional biker, professional drinker, or professional lover?  Whatever it is, you should let others know you're incredibly skilled in whatever it is you do.  If you're a pro at anything, you need a Pro Patch.  By wearing it, you can be sure people know you're a pro.  It's a fun way of showing you're the top of the field.  It's one of the awesome small, cool patches on The Cheap Place.
Who declares someone a pro?  Well, it depends.  If you're a professional athlete, it has to do with what kinds of competitions you enter into and how often you win.  If you're a professional in your industry, it might have to do with your education and what kind of certificates you have.  A professional drinker might be someone who is often the last man standing when the bar closes.  On the other hand, you can call yourself a pro at a lot of things without anyone else backing you up.  Who's to say you're not a professional napper or a pro at farting the alphabet?  Only you!
Let the world know you're a pro at something by wearing this cheap motorcycle patch.  It's so small at only 2.5 inches wide by 1.5 inches tall that you can put it on pretty much anything.  It's even small enough to fit on your wallet or on the back of your biker gloves.  The patch has an iron-on plastic backing on it so you can easily iron it on to your clothing, but it can also be sewn on.  Sewing it on actually gives it a more professional look.
&nbsp
Stealing is obviously wrong, but while individuals do it all the time, so do some businesses and government agencies.  Isn't that what the whole recent Wall Street Movement was all about?  Businesses and businessmen stealing from the people.  Well, while that happens all the time, it's also pretty true that the government steals from us, too.  Just take a look at the current tax code!  If you're a big believer in this, you need a Don't Steel Government Hates Competition Patch.  It's one of the fun Political Patches you'll find on The Cheap Place.
The government seems to steal from us in many different ways.  Taxes, of course, are pretty obvious.  They tax us for everything: what we buy, where we live, the money we make, even our deaths get taxed!  Then there are all the fees and charges you have to pay to get anything from the government, it seems like.  You can't even get a driver's license without paying for it!  Since the government steals from us on a pretty daily basis, they don't want anyone else going around stealing, too!  So don't steal, or you'll find yourself in jail because the government loves to squash all the competition.
This biker patch uses white embroidery thread on a black background.  It measures four inches long by an inch wide.  That means you can easily iron it on to just about anything—jacket, vest, canvas belt, hat, bag…anything you want to personalize.  You can iron this patch on to almost any material, but note that if you're going to put it on leather or nylon, you'll need to sew it on.  Sewing it on gives the patch a more professional look, anyway.
&nbsp
In today's integrated culture, it is easy to forget the mavericks it took to get us here. The biker club Cycle Queens of America is a perfect example of just how far we've come; it was a club ahead of its time in many ways.
In 1958, Delores Davis was refused access to a women's club in Philadelphia (called Motor Maids). We all know that sometimes biker clubs and culture have been dominated by men, but we may forget the people who were denied access based on the color of their skin. Davis was refused access to the club for this reason, as at the time, it was an all-white club.
Davis, along with another rider, Margaret Bonham, went on to found Cycle Queens of America that same year. Margaret Bonham was laid up in the hospital from a broken thigh when she conceived the idea with Davis—Davis visited her in the hospital.  When Bonham heard Davis had been denied, she and Davis decided to form their own club, Cycle Queens of America. Unlike the other club, this one was never racially segregated. The club went on to raise money for charities and race in local events. It even expanded to several states across the Northeast and East. Women from all over joined the club (after completing the required 100 mile ride to become eligible), clothing themselves in the iconic red and white uniform to identify themselves.
Davis and Bonham were true mavericks, ahead of their time in building a new kind of club, where all women were welcome. Even today, we still have a long way to go to get to equality. It kind of makes you want to get a biker patch (maybe in red and white!) to commemorate these remarkable women, doesn't it?
&nbsp
When you buy patches, they may end up not actually making it on to your jacket. Sure, they look good online or at the vendor's booth, but motivating yourself to attach them can be hard sometimes. Well, it's time to do it—your jacket and your pride will thank you. If you don't know where to begin when attaching them, here are some tips to get you started.
Some patches are super simple, iron on biker patches. These come with glue already on the back and only require, you guessed it, an iron.  Most require you to iron the material (the jacket or bag or whatever) first to get it warm, then place the patch down and iron over it or on the backside of the fabric. However, it can get complicated if the jacket you are attaching the patch to is not iron safe. Leather, for instance, would not take well to this treatment. Also, some synthetic fibers cannot take the heat of an iron. In that case, you may need to sew it on.
Even if the patch isn't specifically iron-on, you may still be able to attach it without sewing. You can use fabric glue to attach it to your jacket. Most fabric glue is just a simple application—apply it to the back of the patch then stick it onto the jacket. Be sure to know exactly where you want it to go, because smearing the glue can leave a mark (this can also happen if you use too much glue). You might want to leave something heavy on it to make sure it sticks. This should work with most natural fabrics and many synthetic fabrics. However, like above, it's not likely to work with leather, though it is possible a spray adhesive for leather might suffice.
Overall, you will be much happier with yourself if you just pull out those patches and figure out how to attach them!
&nbsp
When you've bought new patches to attach to your jacket, sometimes your only option is to sew them on (rather than iron them on). Leather, especially, works best if you sew your patch on, and often times, it helps create a more secure hold on other materials if you sew it on.
Sewing on a patch is not as hard as it may sound. To begin, it is important you are sure you know exactly where you want to place the patch. Once you start sewing, it will leave holes if you try to pick it out again, especially in leather.
You'll need to gather your supplies. A strong nylon thread (in a color that doesn't stand out against the patch and jacket—black is a good choice), a thimble, an upholstery needle, and adhesive (optional, and will depend on the material) are a good starting place, and a seam ripper wouldn't go awry, either. Depending on how much you care about the interior, you may want to sew under the lining, in which case you will need to rip out the seam at the base to sew just on the outer layer of the jacket. Apply adhesive to the patch (if desired) and place in the appropriate place.
To sew it on, you will knot your thread and push the needle from inside the jacket to outside, through one edge of the patch. You will then go over the edge of the patch and back through the jacket—this stitch is called a whipstitch. You may need the thimble to push the needle through such thick material. Keep your stitching even and close to make it look nice. When you have stitched all the way around your patch, push the needle back towards the inside of the jacket and knot the thread again, then cut off the excess tail.
Success! You've just completed your first patch. Now on to the next 49 biker patches.